As this country loses stability Standards crumble Hearts endure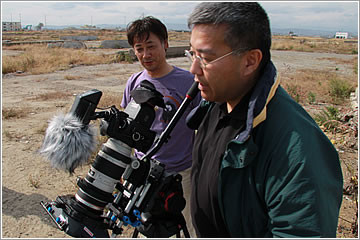 Since the Great East Japan Earthquake, Japan changed rapidly.
What changed, what remained, the flood of emotions within that transition – these elements which composed the atmosphere of 2011 Japan are all in this film.
The devastating image of the tsunami will undoubtedly remain.
However, just as the damages of the affected areas are methodically cleared away, our memories are already becoming vague.
This is our memory of that summer, of that year.

Story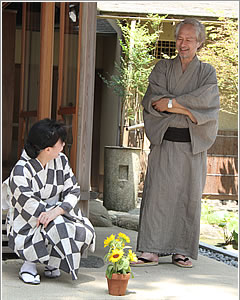 150 days after the Great East Japan Earthquake, in the fictional town of Kita-izu, Shizuoka Prefecture.
Akemi (Ayaka Saito), a girl from the Tohoku region, constantly carries with her a sunflower, firmly believing in its ability to absorb radioactivity. She has evacuated here to live and work at a long-established onsen ryokan (hot spring inn), managed by her grandmother, Keiko (Mayumi Katayama).
Although faced with the harsh reality of declining tourism in Japan, Akemi and others keep their spirits up and diligently work at the hot spring resort.
But the peaceful life is disrupted when a mysterious old man, Matsuda (Seiya Nakano), arrives as a guest.
Talks of constructing a geothermal power plant have come up in the impoverished hot spring resort. Ties bound by nuclear power bring a curious turn of fate for a family.
The true enemy of the Japanese was not the earthquake, nor the nuclear power plant, nor politics.
<CAST>
| | | |
| --- | --- | --- |
| 松田剛志… | 中野誠也 | Seiya NAKANO |
| 武見景子… | 片山万由美 | Mayumi KATAYAMA |
| 小原朱美… | 齋藤朱海(子役) | Ayaka SAITO |
| 葉月… | 坪井木の実 | Konomi TSUBOI |
| 猫田八郎… | 河野正明 | Masa'aki KOHNO |
| 鈴木勝一… | 松崎賢吾 | Kengo MATSUZAKI |
| 小原俊二… | 大野広夢(子役) | Hiromu OHNO |
| チンピラ… | 安東恭助 | Kyosuke ANDOH |
| 人影の男… | 山家浩 | Hiroshi YANBE |
| | | |
| --- | --- | --- |
| 芸者衆… | 伊豆長岡芸能事業協同組合の皆さま  | Izu Official Geisha School |
| 若衆… | ザックアクターズスクールの皆さま | ZAK Actor's School |
<Crew>

撮影:
木村重明
Director of Photography :
Shigeaki KIMURA
照明:
渡辺大介
Lighting Technician :
Daisuke WATANABE
編集:
今津裕式
Editor :
Yasunori IMAZU
録音:
長谷川智亮 (アルファ・イメージ)
Sound :
Noriaki HASEGAWA
音楽:
モリ川ヒロトー(どあノブ)
Score :
Hirotoh MORIKAWA
整音:

三留雄也(サルミックス)
Production Sound Mixer :
Yuya MITOMI
助監督:
小島康嗣
Assistant Director :
Koji KOJIMA
撮影助手:
江口佑 (アルファ・イメージ)
Assistant Camera :
Yu EGUCHI
照明助手:
橋口祐介 
野村久数
Assistant of Light :
Yusuke HASHIGUCHI
Hisakazu NOMURA
録音助手:
落合大介 (アルファ・イメージ)
Boom Oparator :
Daisuke OCHIAI
特殊効果/HP:

坂大樹 (スタジオサカ)
Special Effects / Web site :
Hiroki SAKA
制作:
山口敦久
Production Manager :
Atsuhisa Yamaguchi
制作進行:
柳田あゆみ 
小島聖加 
山崎周人
Production Assistant :
Ayumi YANAGIDA
Seika KOJIMA Shuto
YAMAZAKI
車輛:

斎藤敏久
Vehicles :
Toshikazu SAITO
メイキング:

落合浩之
Making :
Hiroyuki OCHIAI
字幕:
ワイズインフィニティ
English & French Subtitles :

Wise Infinity Inc.

キャスティング協力:
劇団俳優座
劇団ひまわり仙台サテライト
Casting Support :
Theater HAIYUZA
Theater Himawari Sendai